Monday
I did it ! I reached the end of the first block of teaching. We were due to have another week of peri-op but we decided that we had got as much out of it as we were going to get so decided to use it as an academic week. This meant I had time to catch up on my missed paediatric week from the great ear infection of 2020.
I turned up to paeds at 9:00am to watch handover and then I was assigned to a ward in the department. I got to see two paeds patients before going off to my ABG T-DOC. This is essentially where you take blood from the artery instead of the vein like most normal blood tests. I did that test (and passed whoop) and headed back after lunch to see if there was anything else to do. I got to chat to a few parents about their childs health and I got to learn about a whole new condition whilst there. I have to be careful with what I am writing again because of confidentially.
I finished relatively early that day as they were pretty busy so there wasn't much I could do.
Tuesday
Went in for 9am again as we were due to be in neonatal intensive care. We waited 40 minutes for the doctor to not show up and ended up just tagging along with the ward round. It was such an honour to be with the tiny humans. I got to hold their hands and when their entire hand only wraps around half of your pinkie, you suddenly realize just how small and vulnerable these humans are. I got to listen to a couple of the babies chests and feel the fontanelles of their tiny heads.
I loved being there. It got quiet after that but I just sat with one of the babies holding their hand and stroking their tiny head. I began to feel like this is where I was meant to be. I just kept staring at this babies hand wrapped around mine. Happy I could offer some comfort, in their tiny plastic box world.
At 11am I had to pull myself away from ICU and go to get my block signed off. We have to get signed off after every 10 weeks to make sure we have hit our targets. I ended up not getting mine (OSCE's are hard to get done on speciality block) and my in-hopsital mini-cex hadn't gone through so I ended up having to do a quick history on a pre-surgical patient to pass the block.
Then I was freeeeeeee. Well, I had to quickly do the formative which helpfully was on all the things I hadn't covered yet so I didn't do enormously well but I really don't mind. I emptied out my locker, and headed home. I had finished specialties!
Wednesday
On Wednesday we had our final GP session which ended up to be a bit of a anti-climax. I stopped by Tesco to pick up a couple of presents for our GP as she had been so lovely to us. I ended up wandering around the store to see the empty shelves for myself. This was at the beginning of the panic buying phase so I was stood giggling at the shelves at the madness of this all. Little did I know this was the beginning of a long time of unsual living for the UK.
I arrived at the surgery and did our clinics. We had half of our patients cancel on us which was disappointing so we only saw 2 each, and then that was it. We walked out slightly confused. I thought it was going to be a bit more of an exciting ending. I did have a lovely patient though who I ended up having a good old chat with whilst my GP and clinical partner were giggling next door. Apparently, it was hilarious because it sounded like we had known each other forever. I told her how much that meant to me because being on the spectrum, I always worry about how I'm coming across to patients. My GP ended up having a semi-argument with me saying I wasn't on the spectrum which just ended in a fit of giggles. At least something positive would come out that week.
That evening, I found out that I was seen as annoying by the rest of my year group. I almost sat an cried. I had found out it was because I was keen and over enthusiastic. I kinda stopped just there. If I was annoying for being enthusiastic about a degree I've wanted to get onto my whole life …. then so be it 🙂
Thursday
Spent the whole day working in the MTC as I wanted to get some work done. I got zero work done :'D. In the evening I filmed a video with Dr Gill, one of our lecturers here at uni. He does the clinical skills videos for Warwick which are known less for the videos and more for the comments underneath. Turns out the ASMR community love the videos and watch them more than us med students too XD.
Friday
On the Friday we had an academic day. I didn't really want to go in knowing that the entire year found me annoying. I couldn't trust anyone so I just decided to go and do what I needed to do and then go home. In the afternoon, we had a talk from Colin (head of MBChB programme) about the corona virus and how placements were carrying on as normal for the time being. I was slightly worried, 200 of us would be switching hospitals, wandering around wards. But Med School knows best……… little did they know Monday would bring about a turning of the tides……….
Monday
I decided to stick this here because theres only 4 hours of learning to write about.
We turned up to George Elliott (I will eventually learn how to spell this) for the start of our new block. We received our new passes ( I don't look jaundice anymore!) and basically set out to explore our new environment. I felt like Bilbo in The Hobbit :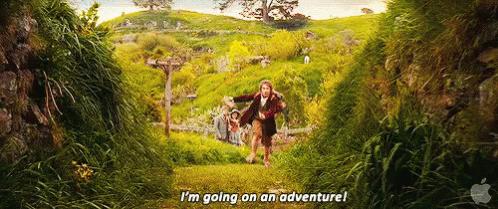 We went to buy parking permits but in the shack we were all talking about other nearby Medical schools who had closed and how the disease was progressing. I looked at my bank balance and decided to wait until the end of the day to buy my pass, I had a feeling something would arise.
Klaudio and I decided to try and figure out the hospital looking lost for most of the time before eventually finding my ward. We waited around for our consultant whilst nervously watching people coming in and out of rooms with full PPE. I't didn't help that we were on the respiratory ward. Our doctor eventually turned up and she was lovely but told us to go off the ward as it was getting busy and they just didn't have the capacity to have us there. Fair enough!
We came out and just wandered around at a bit of a loss what to do. The F1 on the ward bumped into us and asked if we wanted to go to the mourge with her. We said yes but I was a bit nervous about what I was going to see. I've never seen a deceased person before, and that was about to change. We stood in the room watching her and the mourge worker check for pacemakers. Apparently, my face was telling everyone different things as to what I was feeling because she kept asking if I was OK. I was fine with everything, but I am glad we had time out to mull it over and think about it all. It was something hard to process.
We then reconvened in the hospital canteen where others who have been removed from wards had gone. We had to wait around for a meeting with Dr Nair who was kinda the lead at Gelliot so we had to wait until 12:30pm for this. This meant we got to try more of gelliot's well renound Ice cream bar which lived up to expectations.
At about 11:30am we heard from the first years that all their teaching had been cancelled at that point, we knew what was coming for us. Sure enough, we received an email saying we would all be pulled out of placement for at least two weeks. There was a mixed sense of happiness as we were all tired from the last 10 weeks, but also sadness. We would be theory for at least the next two weeks which was awful as we loved meeting patients and we were becoming used to learning in this new way.
We had a hello and goodbye meeting from Dr Nair and were set on our way. It felt weird. The email said two weeks but none of us believed that. We would not be back in two weeks and two weeks later we were put into lockdown in the UK.
It still feels weird. I'm going to lose out on half a year of my degree theoretically. Warwick I must say have been brilliant about keeping us informed but sacrifices and changes have had to be made. I've had to change my SSC2 which I was overly excited about and am now stuck doing a systematic review which I was adamant that I didn't want to do. I can't think of anything more boring than staring at pages and pages of text summarizing it. That's not the research I wanted to do. Obviously, it's very minor on the small scale of things but I was devastated.
Warwick have arranged for us to work in the trusts. Something not many medical schools have offered so, they have been brilliant. We are going in as HCA type roles but allowed to practise up to our clinical competencies which is brilliant. I've just found out that I will be working at George Elliot so I am going back to Nuneaton !
Covid-19 has taken away so much from everyone. Patients dying on their own, the NHS stretched, new hospitals built. It all feels like a weird dream. However, if we keep up moral, stay in doors, maybe we will all get through this. The UK will be different after this, but for now, it's time to load up Netflix and enjoy some time off from early starts.
Bee